Executive Vice President Jillian Pezet
Executive Vice President Jillian Pezet at Quality Tree Service of West Michigan, Inc. came to ChoiceOne Bank for a business loan and a new relationship blossomed immediately. In talking with Jillian, she mentioned how she thought of becoming a psychologist one day and how that grew into managing her family's business. She now practices her people skills overseeing more than 50 employees and managing the business operations of a multi-million dollar company. Here is a little of her story.
Early Beginnings – The Seeds are Planted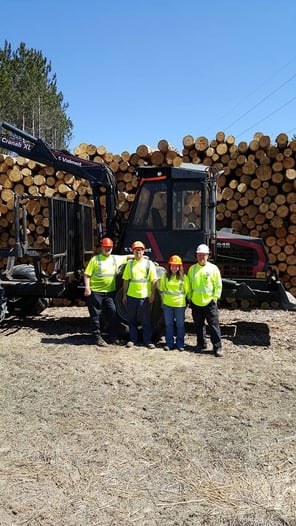 Left to right: Quality Tree Service of
West Michigan Gene Towne, Greg Vincent (owner), Jillian Pezet, Dennis Vincent (owner)
Quality Tree began in the late 90s when it was just my dad and two brothers. At that time Quality Tree was a small residential tree company. I started helping around the business when I was 14 years old and never thought it would be my career when I grew up. My dad was a mechanic before starting Quality Tree and my mom a teacher. As my role models, my goal, too, was to help people. I fluctuated between wanting to be a mechanic and a teacher…but never considered being part of a family business.
So while I was helping out in the business, I went to Muskegon Community College and received a general associate degree. I then transferred to Central Michigan University, Mount Pleasant, and earned my bachelor's degree in psychology – all with the goal to become a psychologist someday. However, Quality Tree started to grow significantly. It was at that time that we switched to just commercial business and I became the Office Manager. I went back to Central and earned my master's degree in science, business administration and started applying my education to the business, especially since we were growing so rapidly. Before I knew it, I was the General Manager of our multi-million dollar organization in 2012; overseeing the entire operation including the employees of Quality Tree.
The turning point in my career is when our company started to grow. I had a tremendous amount of company knowledge and even though I still had psychology in the back of my mind, I felt a great responsibility to my family to help grow our business. I had become very passionate about what we were accomplishing. I was able to meld my goals into the family business that started with three employees and now has grown to over 50 employees.
ChoiceOne Bank Shares Same Family Values
With our rapid growth and our need for a business loan, we started working with ChoiceOne Bank. We knew it was the right fit immediately.
I was looking for a bank that was big enough to meet our expanding business needs, and small enough to provide personalized attention. I believe with bigger banks I can get lost in the shuffle and this can become a problem especially when I am under tight deadlines. I need to reach out to a person and get a real-time response.
A work crew at Quality Tree Service of West Michigan, Inc.
We had banked with a large bank for a while, but I was looking for other options. Our accountants introduced us to ChoiceOne Bank and I'm so glad they did. I have been working with Commercial Loan Officer Trish Brown, and Fremont Office Branch Manager Sue Purcell. They have been great to work with and have provided a level of service that our small family business appreciates.
Same Small-Town Feeling
As a small business, we value easy, seamless communication. I have a local name and phone number and can call my banker when I need something. For example, if I need a wire sent that day and need to receive an answer the same day – I can count on ChoiceOne to take care of me. It's important to me that the organization that we bank with has the same local feel and family values that our business has cultivated over the years.
Because we are a family-owned business with a small-town feel, we really enjoy the connections we make with the community and building personal relationships. At ChoiceOne Bank, I have a name and phone number that I can call if I need anything instead of an 800 number of someone I don't know. This is very important to us because we love people and need to connect with people! Quality Tree is an extension of our family and we're happy to have found a bank who understands and shares our values.
Back to Roots
We're based in White Cloud and have recently expanded down to the Grand Rapids area. We closed our residential service to go strictly commercial some years ago. We are opening up our residential business once again and will have a residential office out of Grand Rapids and intend to expand that out of our White Cloud office as well. We are excited about the opportunities that will come with our next expansion.
Our main area of business is a commercial tree service designed to help protect the powerlines. We take very large machinery and go down the powerlines and remove any threat of vegetation beneath the transmission lines.
We have many talented equipment operators as it requires a lot of powerful machines to remove entire trees and other vegetation. We also have a lot of talented manual professionals that climb trees if they are beyond the capability of the equipment.
Executive Vice President Jillian Pezet
and her family
Communication and Strong Core Values – Keys to Family Business
Working with your family is not for the faint of heart. It is a tough job but it's a rewarding job. We have strong core values as family. We are very close. We allow each other to make mistakes. You love, forgive, and move on.
My daughter and my brother's son, who are both 14 years old, often joke about stepping into our roles someday. What they are learning from us – what I learned from my parents – we are here to help people. We treat our employees as an extension of our family; that is just what we're all about.
Communication throughout the organization is key.
My goal was always to help people. Now helping my family and our employees gives me great satisfaction that I am fulfilling my career goal. I am also a wife and the very proud mom of our four children. These are the most fulfilling roles of my lifetime.