When Al Ochadleus thinks back on his career, he fondly refers to himself as "just a punk kid" who was given a chance to work for Vlasic Food Products, Inc. in 1962. Al likes to reminisce about his first job as an 18-year-old kid pitching sauerkraut from large wooden barrels in Imlay City, Michigan, boasting that he'd take over the company someday. "I literally started at the bottom of the barrel," chuckles Al. "But it was a matter of trust when they hired me, and it led to a great career. And I did take over the Midwest!"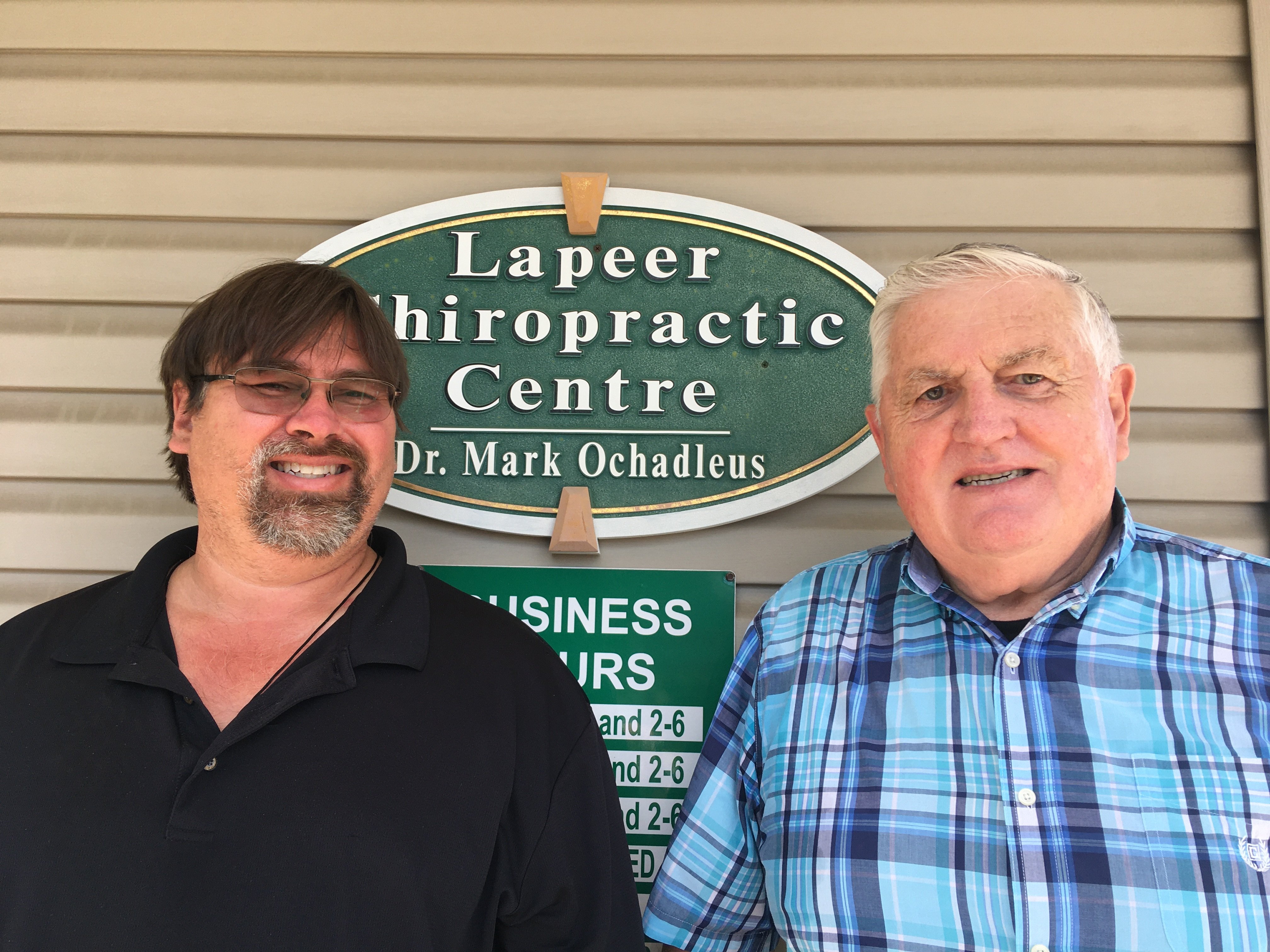 From left, Dr. Mark Ochadleus, and Dr. Al Ochadleus.
Al graduated from the University of Michigan with a bachelor's degree in business administration in 1975. He went to school nights and weekends, started a family all the while progressing at Vlasic. In 1978, Campbells Soup Company bought Vlasic Food Products. Al stayed on with Campbells for nearly 20 years as he progressed further in his career moving into several management positions and taking over management of the Midwest territory in 1984. Al retired in 1996 after a successful business career. That's when he transitioned into business consulting and politics. "After 34 years in business, I worked with a great bunch of folks," recalls Al. "Now I work behind the scenes as a business consultant at my son's Lapeer Chiropractic Centre."
Al's son, Dr. Mark Ochadleus, and the Lapeer Chiropractic Centre have been delivering chiropractic care to the Lapeer community since 1996. Dr. Ochadleus received his doctorate degree in Chiropractic from The National College of Chiropractic, Chicago. After graduation, he completed a three-year post-doctorate diploma of acupuncture. He is also a Doctor of Naturopathic from St. Luke's Medical School, Chesterfield, Missouri, and he is certified in a wide variety of chiropractic and alternative medicine techniques. The Centre treats patients for pain relief and wellness care.
"We received great service from our local bank and Commercial Lender."
When it came time to consider a Paycheck Protection Program (PPP) Loan for Lapeer Chiropractic Centre back in March, Al recalled the construction mortgage loan ChoiceOne Bank (Lakestone Bank & Trust) gave him years ago in 1965. He presented his construction blueprint to the president of the bank, drawn on the back of a matchbook cover, and got his loan. Again, it was a matter of trust for Al. That loan set the stage for their relationship going forward and the recent (PPP) Loan request.
"It was our accountant who notified us about the PPP Loan," said Al. "We called Manager Liz McVety at the Lapeer-South branch and her Assistant Manager Tonya Lyons. They immediately put us in touch with our Commercial Lender Rick Chown. That was on a Monday and our loan was submitted that Wednesday. It was a blessing to work with Rick and his team during this arduous process. We received great service from our local bank and Commercial Lender."
"It was extremely important to us to have the ability to serve the community during a vulnerable time for everyone."
The PPP loan allowed Lapeer Chiropractic Centre to stay open as an essential business. With five employees, the business kept operating so all employees were able to keep their jobs and their benefits. "It was extremely important to us to have the ability to serve the community during a vulnerable time for everyone," explained Al. "The PPP loan has allowed us to keep our employees working with zero impact to their benefits."
Al Ochadleus also has a daughter who graduated from Oakland University with a degree in Human Resource Development. She recently retired from her management position with the Michigan Secretary of State. Al's wife has her Master of Education in Reading and retired from teaching the same time as Al, in 1996.
A very proud family man, with a well-educated family, Al likes to remind us that he started out in the bottom of the barrel. He and his wife will celebrate 56 years of marriage in August. While she is enjoying retirement, Al is still active in business consulting, politics and telling his stories. "Trust me, this is not smoke and mirrors…this is real life," says Al.
When Al is not working with his son, he is busy as the Township Supervisor of Attica Township, in Lapeer County. When asked how he felt about Lakestone Bank & Trust merging into ChoiceOne Bank, Al was fine with the change. He said the only people that are ambivalent are those that fear the unknown. This "punk kid" started his career without fear because he was trusted. That is how Al continues to conduct his business today…always as a "matter of trust."